Continued from previous story (http://korytskyy.lviv.ua/en/?p=551)
Part 2. Musketeers are ready-mounted
Before leaving café we agree on the first switch of horses – everybody wants to try not only own, but others as well:
Suzuki Intruder 800, Yamaha DragStar 650 Classic, Suzuki SV650.
I've ridden Yamaha for 400 km before, so it's not very interesting for me now. Intruder is my horse at this weekend. Suzuki SV650 is the piece worth trying, taking into account that I've not been riding sports much.
And here… the first fail… Seating of sports is a bit completely different to choppers, that's why my recommendation is to take comfortable and elastic jeans or trousers. My favourite skulled jeans couldn't stand my air leg-split when I jumped on other musketeer's horse, and torn apart in the very place… But what can you do?…
Slowly, getting used to new horses, getting to highway to Krakow and moving to meet the fourth musketeer. You can feel difference at once between kinetics of chopper and sports. Riding a sports with even small windshield you can't feel the speed up to 100 km/h. It's a pity, but full highway doesn't allow loosing and feeling everything bike is capable of. 20-40-60-80-40-60-40-60… When you ride a chopper, legs are always in front, while riding a sports your legs are behind the body, hands are unusually loaded. But acceleration kinetics is pleasant. While I'm getting used and trying out Suzuki SV650, we are back to Krakow, reaching assembly point. The fourth musketeer is not yet out, we are inspecting horses. Everything looks fine, but I need to change pants, because with the vent hole like that I can get my ears chilled.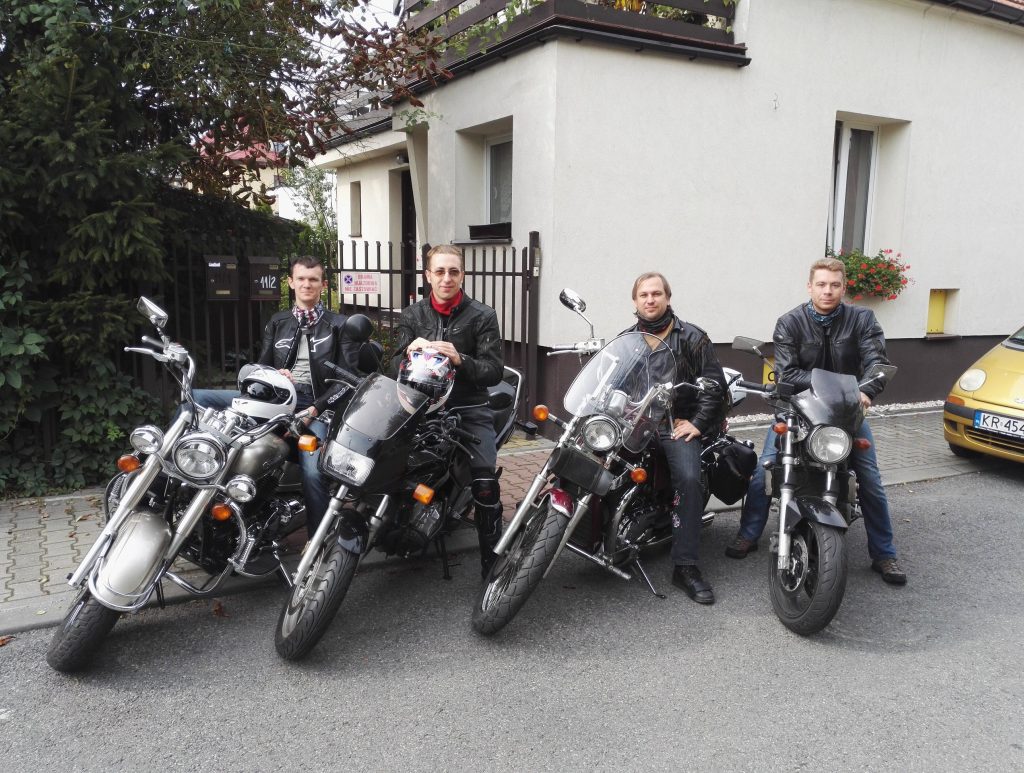 Finally, the fourth musketeer joins us, we make some photos before we start – and as intermediary point we stop by to change my pants, and – let's ride.
Part 3. Riding.
It's the first we ride together. There is no sense of group, we haven't yet used to the driving manner of each other, we don't know where and how we ride. Various driving experience, various passed distances. Traffic around us interferes, it's impossible to start getting pleasure from the riding itself. You're focused how to keep everybody within the field of view, like the first time driving and you're not fast enough for simultaneously looking into rear view mirror and shifting the gear, shifting your head instead for every movement.
We're out of Saturday's Krakow stream at last and turned to third-rate highway along Wisla river. We ride in chain, adopting, testing the horses, looking around. The group leader sets the tempo, you're fitting into it. At traffic lights two bikes fit into one line, other two bikes fit into the second line. The area, usually taken by a car, now is taken by four motorcycles. Slowly a sense of the group appears. With every stop or turn you're changing your focus to tracking the front and the back motorcycles in group, if they are getting on, catching the group, not missing a turn, seeing where everybody else turned. The group starts to behave synchronously. The first biker is in the left, the second one is in the right, the third one is in the left, the fourth one is in the right. The distance in between equals two-three motorcycle lengths. The shape of the group like this lets you seeing all in front and with the rear view mirror seeing all behind.
Every ten kilometers riding manner changes to become more confident, calmer and balanced. The left column starts riding in one wheel tread, you start feeling the right column as your right hand. As every trip I had, at the certain moment in time depending on intensity a group is merging and becoming a single organism, feeling if a leg, a hand, an ear or something less disappeared, lost or get into something. The feeling is usually undefined, but it's present: somebody is missing, let's count, who's missing?
We turn from the highway with somewhat traffic to the left, to a kind of third-grade highway, but with good surface. In 100-200 m you realize you have a wish to loose throttle completely – you see approximately a kilometer of straight road with no traffic. You obey that wish – and your motorcycle, wondering at first why you have been waiting for so long, for the first half a second entrapping a combustible – and then using a friction force accelerates you to 100 – 120 – 140 – 150 km/h…
In parallel to you, the other musketeer sees that somebody is catching him and does the same – loosing throttle, wondering at first why you are accelerating, and then in a moment grasping that energy flow pushed by you forward guessing that now it's time for the test, and looses throttle to the full and gives in to friction force, pushing you forward like bullet.
There is a turn ahead, you let the throttle go, letting motorcycle to slow down without breaks squeezed, and entering a steep turn at the speed of 80-90, reaching small draw-in, stopping and waiting for others. The group catches, stopped and turned off engines. Accelerated energy flow, either adrenaline flow, comes to surface and everybody shares impressions about their horses and about senses of speed and road.
You take off your helmet and look around – and wondering. River delta, a kind of damb, field. Several minutes everybody is actively sharing their impressions. One more horse change – and now you're riding another horse.
After the first hundred kilometers you pay even less attention to road, traffic, weather, stop thinking about the purpose of the trip, or even about the final destination. Now the time comes for meditation.