Saturday Morning, September 24, 2016. Warmup
Recommended tune: Portishead – All Mine (https://www.youtube.com/watch?v=vozNQX6Ye1A&list=RDVg1jyL3cr60&index=4)
Krakow. 8.30 am. +9 outside. Cloudy. Gonna rain? At 9.30 meeting at Wild Bean Cafe. I'm going out, driving out, let me see around. Thermoshirt, polo neck, buff, warm gloves (skiing gloves are warm enough)))))) ).
Inserting one headphone to ear, setting first point in googleomaps with voice directions to Wisla riverwalk, 5 km for warmup. Engine is cold, opening choke. 1999's Suzuki Intruder VN800 is starting only if you press clutch no matter if it's in gear or in neutral. Engine's stroking smooth. It's time.
Slow first gear. Quietly, no fast acceleration. Myself and Intruder need to warmup. Second gear, exiting Bożego Ciała to Miodowa, shifting to third, with no rush approaching to turn to Starowislna in direction to riverwalk. Not many people on the streets. This district awakens at 11-12 am, not before. Before the Powstańców Śląskich bridge turning left, alongside Wisla, passing Galeria Kazimierz, to Kotlarski bridge and U-turn back. The same way back, but accelerating a bit, no fifth gear for now, it's too early and space for that.
I need to change footwear. Sports shoes are not comfortable – clutch pedal is a bit hard. Low boots and special boot toe protecting footwear. It's almost 9 am. Time to go to meeting point. Googleomaps, voice mode, putting phone to pocket, speedometer shows 349 km. Time to the point – 18 minutes, estimated arrival 9.27.
Exiting to Dietla, in 300 m U-turn and move it. The street is empty. Accelerating, green lights path, bike burns the ground. Comparing to smooth and touring Yamaha DragStar 650 and spry Geon Hammer, Intruder with windshield accelerating to 100 km/h like bicycle accelerates down the hill – with no tension.
Meeting
I arrived at 9.26. Nobody's in the place. Calling and getting that it seems I missed change of meeting point from Wild Bean Café to gas station near Krokus trade center. The third affiliate is also late. Distance to the point is 10 km, my arrival time is 10 am. I didn't drink tea and didn't drink coffee. Jumping into saddle, forcing acceleration – and three of us meet at 10 am in the gas station.
Part 1. Coffee and crème brule.
Recommended music: The Chemical Brothers – Wide Open ft. Beck (https://www.youtube.com/watch?v=BC2dRkm8ATU&list=RDVg1jyL3cr60&index=24)
We have three and half hours for three of us, until the fourth affiliate will be free. Let's ride. To the café with Wisla view. Interesting. I don't know the path, riding as group. It's interesting, because I wouldn't walk these streets as they are too far from everything what I visit. Highway, deadends, some familiar crossroads in half an hour bring us to Jagiellonian University. What is this doing here? Up the hill, shifting between 2 and 3 gear we are driving uphill, like in Lviv you would drive uphill from Bogdan Khmelnytsky street to Kryvonosa street, but here's no block stones.
As a result – the University territory, with restaurant and café. Restaurant starts at 12. Café is open already, it starts at 10 am.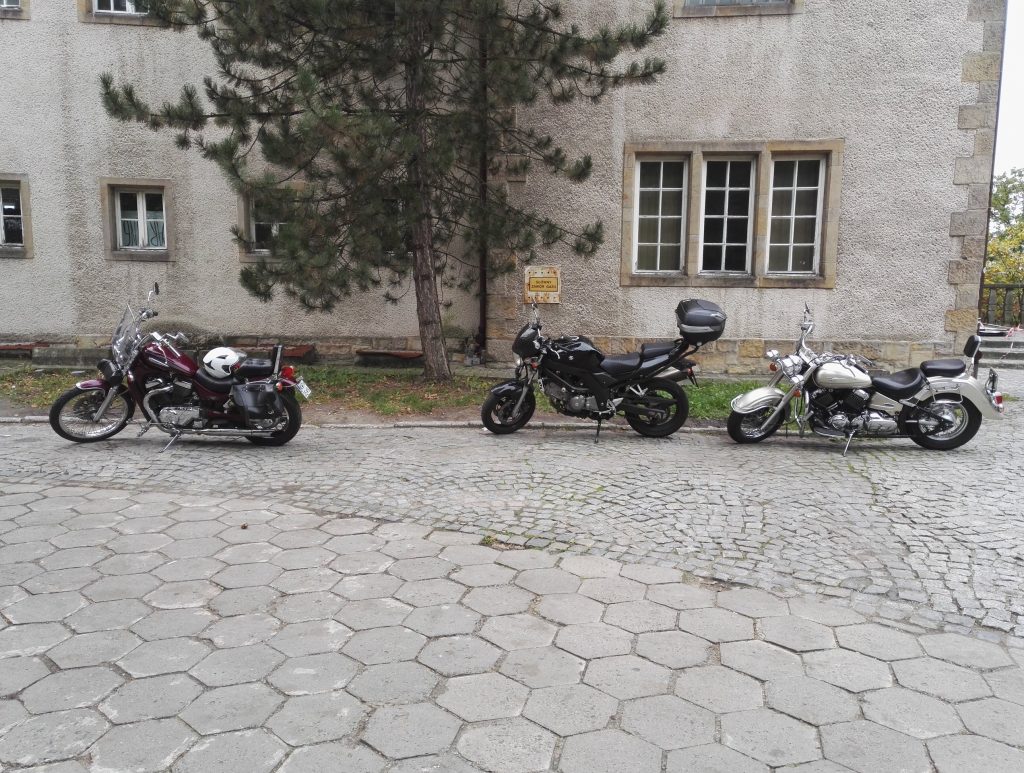 We are passing through the internal area and exiting to terrace. View.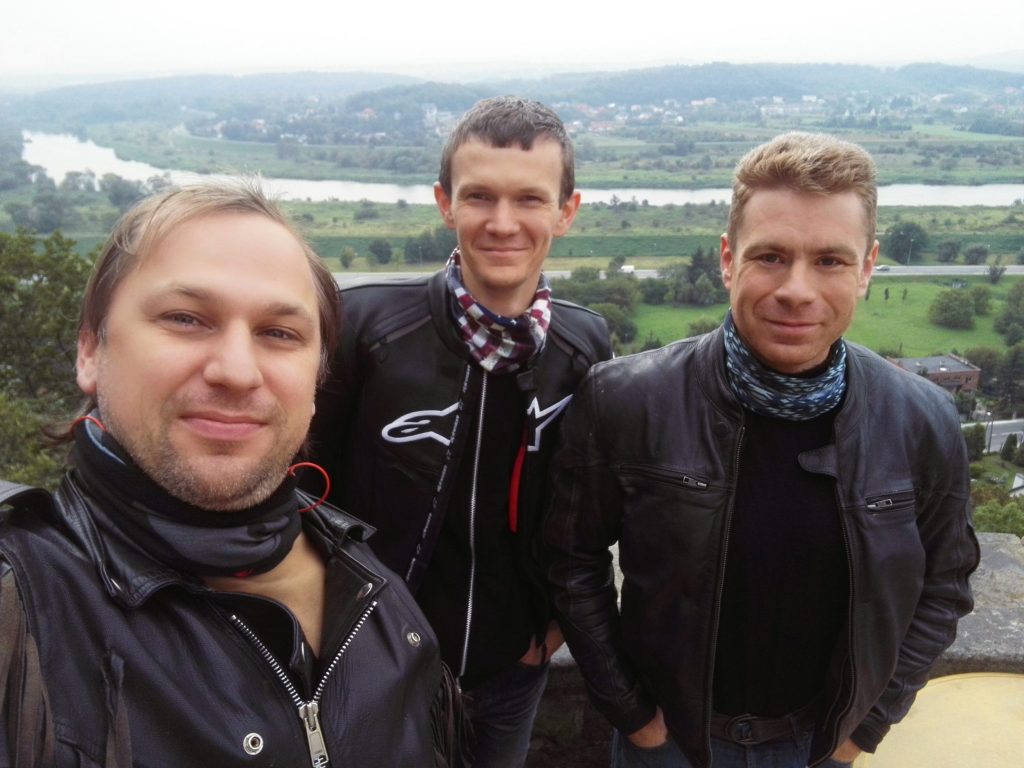 Café and restaurant are named odd: "U Ziyada" (At Ziyad's). Who's Ziyad and what's his story is classified at http://www.uziyada.krakow.pl/.
However, they serve my favorite desert crème brule. And it's worth trying.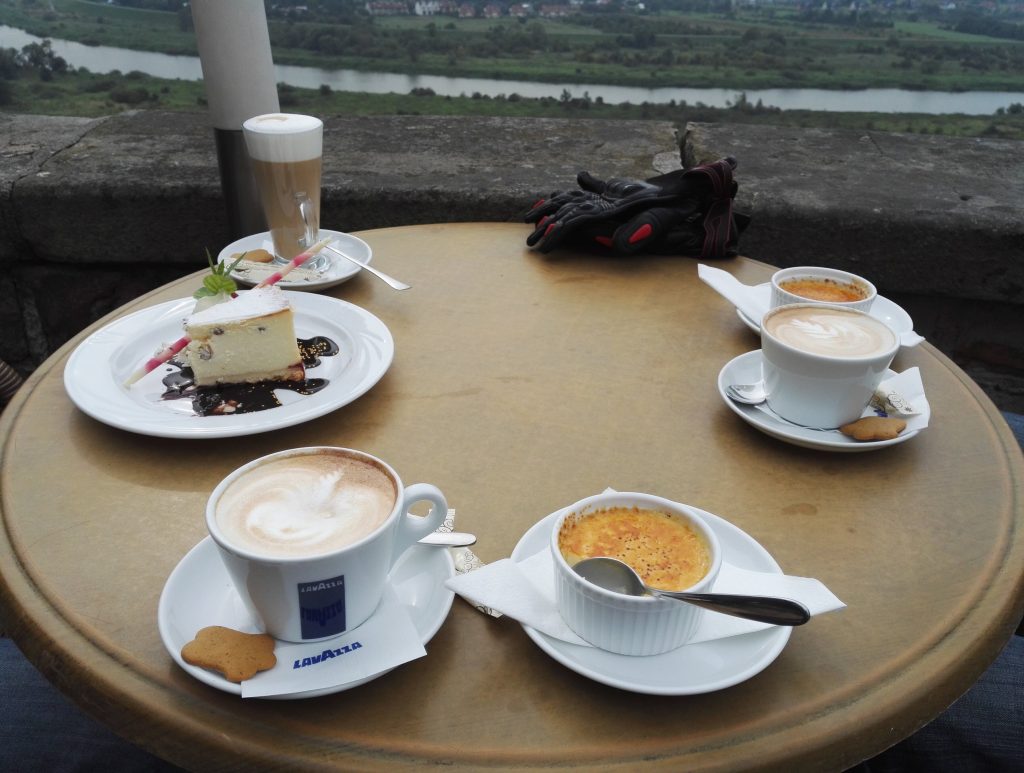 We drank coffee, ate deserts, now it's time to come back to Krakow to Bonarka district to unite with the fourth affiliate.