With the New Year's Eve approaching, with common tradition of planning and giving yourself promises for the next year, and close to further uncertainty of our life, I've remembered one of the greatest military strategists of 20th century, who is often deprived by proper attention and honours, but whose ideas make the whole military machine of the US building its strategies in action, and owing these ideas F-15, F-16 and А10 fighters were developed.
John Boyd and his OODA loop is a scheme usually developed by John Boyd himself in 5 to 8 hours in his briefings.
It's complicated to tell the whole importance of the Observe-Orient-Decide-Act loop, and I will tell only basics of the application.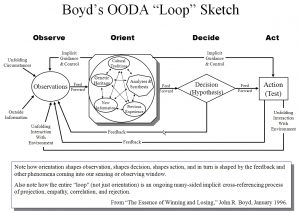 We are all living in uncertainty and ambiguity. Every next day is impossible to be predicted, the result of every next action is impossible to be planned. John Boyd created this loop for us not to be afraid and not to freeze when we meet uncertainty and ambiguity, but to start acting at least with something. This diagram is used for explanation of many notions: Gödel's Incompleteness Theorems, Heisenberg's Uncertainty Principle, 2nd Law of Thermodynamics.
Finally, this loop is used for simplifying understanding of our mental patterns, mental models.
But what's the problem? Why do we need to understand our own mental patterns? Because we are trying to draw a condom on the globe (I can tell what is a globe separately): we are trying to draw our mental patterns on our new experience, which we haven't had before. And this causes disappointments, incomprehension, frustrations, disturbance, depression, in the very least.
And here's Boyd's loop telling us suddenly:
– in any unclear situations observe first
– did some observation? Orient your actions according to received knowledge, and make correction to new knowledge, conditions, situations, information
– decide what to do: first, second, third, or totally nothing – that's also a decision.
– act: check everything through the action – things you've observed, oriented, decided.
– observe the results of your actions…
…
…
And continue in the loop.
I think that this one is timely for New Year's Eve approaching, after new Lunar month has started and after Solar Eclipse.
Observe-Orient-Decide-Act.
Merry and Happy New Year, do less harm and act more!
As well, here's my translation to Ukrainian of the diagram.